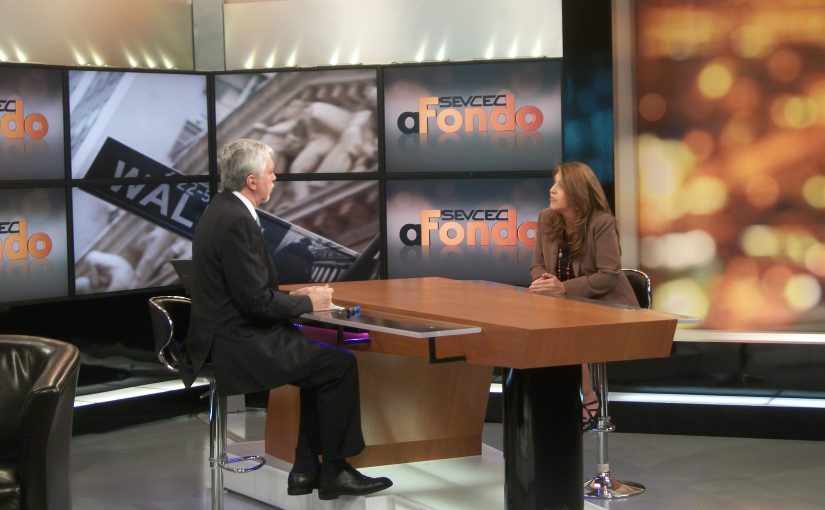 Adriana Carrera has built a successful career in journalism and is the owner of the online magazine La Familia de Broward, dedicated to helping the Hispanic community in the United States. By reporting news and positive events that contribute and motivate the reader, she attempts to bring the best tools and resources for the Hispanic community to reach greater levels of development for the soul, body and spirit. She has faced difficulties at both a personal and professional level, but she found faith and resolve to overcome the obstacles and now wants to share her story for others to find their own way. Read on for a closer look at her story.
NENANI: Had you thought about moving to the US when growing up?
Adriana: No, it never occurred to me that I would end up living in the US. I was hoping to study in Spain instead but I fell in love and followed the man who is today my husband to a new life away from Guayaquil, Ecuador.
NENANI: What is your current profession? How did you prepare for it, both in education and prior experience?
Adriana: I am a journalist specialized in the US Hispanic community. Although I obtained my bachelor degree in Guayaquil, Ecuador, I developed my career mostly in New York and South Florida as a reporter and later as an editor.
Working for several media outlets in the US since 1996 and being a news correspondent for Ecuadorian newspapers and magazines very much prepared me to launch my own magazine: La familia de Broward
NENANI: What do you consider are your contributions to your community?
Adriana: I believe La Familia de Broward is my contribution because its mission is to equip Hispanic families to success through information. Being an immigrant is a difficult process and some families experience a hard time finding sound guidance that walks them through that process. Tired of bad news, we created La Familia to encourage, guide and help Hispanics in different areas of life. Many new immigrants call us thinking we are a Community Foundation. Perhaps we can start that in the near future.
NENANI: What is your passion? Can you describe how this came about and how you express and live this passion?
Adriana: I have a passion to serve families. It was always in me since as a little girl. The nuns at my catholic school took me to missions at impoverished areas of my own city. Balancing on fragile bamboo bridges on our way to evangelize kids really impacted my life forever. I also saw how my parents (a lawyer and a librarian) were always committed to helping others and leading by example.
Later in life (living here in Florida) I found Jesus Christ as my Lord and Savior, who also saved my marriage from an imminent divorce. That experience brought me to change not only my spiritual life by 360 degrees, but also my physical location. We moved from Coral Gables to Coral Springs for a new beginning in our new Christian church (La Ciudad de Dios).
That was in 2006 and I started growing both professionally and spiritually. I found purpose creating the magazine and a renewed abundant family life. The passion to see healthy, sound and happy families lead me to, in 2015, becoming a Children and Services certified chaplain. At my church I am a worshiper and women's leader. Almost every day I get to empower women not only through my journalistic work but also through my spiritual work.
NENANI: What advice would you give to other Latina professional women, whether coming from other countries or already in the US, to grow in their career?
Adriana: To me the first thing is to learn English if they don't know the language. Second, you have to work on identifying your God-given talents and to find out who you really are. Sometimes we have to reinvent ourselves here and that is OK.
I didn't have to change careers because in my field we don't have to revalidate diplomas, but when technology came along, it changed things forever.
I was downsized at a previous job in 2011 and I saw the opportunity to work on my own project (we created La Familia de Broward in 2009, in the middle of the recession).
Challenges are opportunities, they really are. Women will grow as long as they establish a plan, educate themselves on how the system works and walk towards their plan. The beauty of this blessed country is that your success will only depend on yourself and also on how can you help others. Giving is receiving. Don't try to be a super woman; create good connections to rely on.
Don't be anxious to accomplish everything in a short period of time. All good things come to those who wait and work diligently.
NENANI: Anything else you would like to share with us?
Adriana: I believe we are living in very exciting times. You might think I am crazy but I really believe that in spite all bad news out there, when we focuse on our "cause" or calling or purpose in life, however you want to name it, we won't have a boring day ever. Look for God and the rest will come. As matter of fact, the best is yet to come for Latinas in the United States.
Thank you Adriana for the work you do to help the Hispanic community and for sharing your uplifting story with us!