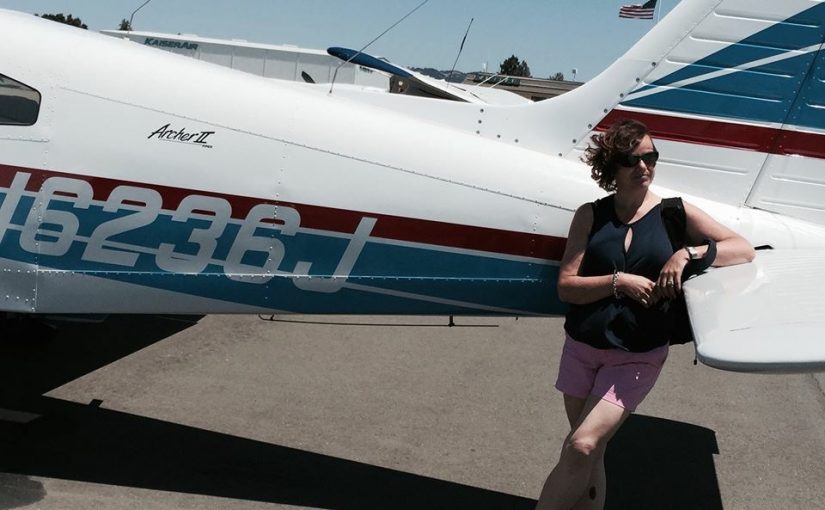 Ana Carolina Uribe is an accomplished professional who has built a life with her priorities straight. A compassionate Advocate for Special Needs Families, Ana Carolina balances her home life with a successful career in insurance and brings her passion for flying to girls and women through her award-winning work at the Women Of Aviation Worldwide Week initiative.  She is an admirable example of finding your passions and living them to their fullest while succeeding in creating a work/life balance. This is her story in her own words.
Had you thought about moving to the US when growing up?
Yes and no. Originally I wanted to be an attorney but I always had a banking career in the back of my mind. Since the U.S. was part of my upbringing in Quito, Ecuador through frequent travel, I did see the country as my second home.
When did you decide to move to the US?
In the 80's my father lost his business in Ecuador and my two brothers were going to school in Michigan. In my private life, I had a major change that made me think about coming to the U.S. Therefore, within two weeks of visiting some relatives, I received a scholarship to go to school and study finance. That's where it all started.
What is your current profession? How did you prepare for it, both in education and prior experience?
I have a background in law but banking and insurance have been my life for the past 30 years. I started my career in Quito, Ecuador as a customer service representative at Banco Continental. When I moved to Florida, I started working as a teller and grew to become part of the Private Banking and Global Wealth Management department of Citibank. I moved from Florida to New Jersey and became part of their Private Bank in Manhattan. As a teaching institution, Citibank is one of the best in the business. I learned from the very best and still have friends that are part of Citibank to this day.
What would you say are your contributions to your community and the country?
Learning the system well and being able to advise people on matters involving finance, investments and insurance, as well as on how to manage and grow to both small buinesses and the individual investor, is very rewarding.
In the latter part of my career, I changed my focus towards insurance in order to have the flexibility I needed to be available for my son, which has been extremely important to me. I have an Autistic child at home so the balance needs to be right. My son comes first always, and the business second. Family is my focus and being able to help and discuss the future of families with children like mine is just the right combination.
Why have you decided to stay in the US?
It was the right time to do so as many doors opened to new opportunities along with exciting new challenges.
What is your passion? Can you describe how this came about and how you express and live this passion?
I am an Advocate for Special Needs Families and have become quite involved in programs in this space. The basic Federal Law is the same but the system in each state is different so each state has ways of doing some things differently than the next. I was extremely fortunate that when my son was diagnosed with Autism, I was living in New Jersey, which happens to be one of the top states in the nation for having intervention programs for children like mine. I immersed myself into learning the system, what it means to help families like mine and how to give a hand to those who came after me, especially Latino families. To this day, some Latino families unfortunately still look at a child with special needs in a different way instead of embracing what they have, learning what he or she needs in order to succeed and being an advocate for their own child.
I also learned in this process that here in California, Special Needs families do not share as tight of a community as I have experienced in any other place I lived before. It has been a learning experience for me and for the growing community, since the more you work together, the better the results are. However, even to this day and despite all the progress achieved in many places, some people still look at a Special Needs child in a different way and unfortunately many parents in certain communities don't really open up about their children. As an advocate, my goal is to grow our community stronger and more open so that we continue to learn and work together to advance the wellbeing of our children.
My second passion is flying. Aviation was always part of my upbringing. My father formed an airline in Ecuador in the 1950's so for all of us in the family, travelling and flying were normal and frequent activities. Three years ago, by chance, I met a lady that was putting together a program around the world inviting women to be part of aviation.  She is the founder of Women Of Aviation Worldwide Week and the movement is still growing to this day. The movement is now in 42 countries, 5 continents, and has over 140,000 participants, and we bring women and girls into aviation inviting them to see what it means to fly and why we do what we do. It has been an amazing ride and it has given me so many rewarding moments included being awarded the Jefferson Award for bringing women into aviation in the Bay Area.
My husband and I are pilots so we share that passion and try to keep it as a regular activity during the weekends enjoying each other's company in the air. We plan our dates so that we fly over to a small airport around in California to have lunch. This way we keep living our passion and spend quality time together.
What advice would you give to other Latina professional women, whether coming from Ecuador or other countries, or already in the US, to grow in their career?
Find a passion and run with it. Learn as much as you can and try to connect with women in the same area you want to expand. Knowledge and connections are important so go out there and make them. Something important to keep in mind is that if tomorrow you realize that your original passion has evolved into a second one, that is OK too. Sometimes it takes a couple of tries to find the right fit for you.
Be open-minded and embrace your community around you. Everything will fall into place.
Anything else you would like to share with us?
I'm still trying to understand all the intricacies of living in California. It is a beautiful place but the focus of the people is very much towards high tech and not necessarily into community. As a Latina, that is one of the most valuable things we have and share: our community. I want to remind everyone that together we can accomplish anything so let's open the doors for the ones that need us the most, let's help each other grow and embrace each other's differences. We will leave a much better place for the next generation.
Thank you Ana Carolina for your efforts to bring awareness to your communities and keep flying high!
Do you know an inspiring Latina you would like to see featured in NENANI? Email me at ana@nenani.com and let's make it happen!