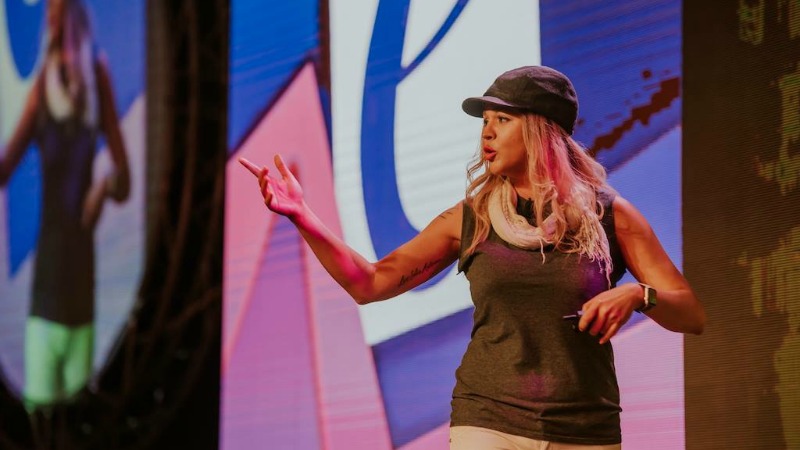 Miri Rodriguez's LinkedIn summary describes her best: "High standards + high heels always on the next adventure to disrupt something. Dreamer. Strategist. Storyteller. Believer. International keynote speaker. Sometimes insomniac. Ice cream is my superfood."  She has a contagious energy and zest for life that permeates her work and home life, and her empathy for others is matched only by her drive and determination. Read on to be inspired with Miri's story.
Ana: What prepared you for your role as Storyteller at Microsoft, both in education and prior experience?
Miri: Understanding the 360 of a business was critical for me to take on such role because storytelling encompasses the entire business. Storytelling is not just creating or marketing content. It's a methodological business model that requires ideation, strategy and implementation at many levels and across multiple functions. It follows the Design Thinking approach. Therefore, you have to know your audience and stakeholders. I never thought I'd be a Storyteller for a global company (this role didn't exist back then!) but did know early in life that it would benefit me somehow not to be "tied down" to one or two business disciplines. So when I was offered job opportunities in different areas and industries, I took them. My experience includes operations, marketing, finance, social media and Human Resources in industries like banking, yachting and tech.
Miri and her Global English Social Media team take a photo at the base of Mount Pinatubo before climbing to the top for eight hours
The same applies to education. I never wanted to specialize in something specific. I thought it was too constraining. So I majored in Communications and this gave me a broad range of career choices, allowing me to explore different aspects of this academia. This served me well as I changed industries. I'm currently finishing my Master's in Integrated Marketing and Communications at Georgetown University.
Miri and mentee Jose-Andres Camacho take a break and visit the White House while she was in DC for a speaking engagement. She tries to meet her remote mentees for quality time when she travels
Ana: What lead you to become a mentor and coach?
Miri: I believe legacy is one of the most important things we can aspire to have in life and part of my legacy is to ensure other people (especially young women) don't feel alone in their career and life journey, like I did in my tender years of corporate ladder climbing. I didn't set out to become a mentor or coach. But during my most transformative life moments, I was very open and vulnerable to share my experience. To my surprise, people became curious and wanted to know more about how I had navigated these excruciating moments and what learnings had come of it, and I was willing to share. I don't see mentorship as a "lead to subordinate" relationship. To me, it is an empathetic human exchange of opinions, ideas and mutual life learnings that help us understand we are not alone and also immortalizes us long after we're gone. I learn so much from mentoring others. Probably more than they learn from me! 
Miri and mentee Christa Weddle celebrate summer in Washington, Miri and Global Spanish Social Media team share a fun moment in Bogota, Colombia, and Miri takes selfie with Intern Aleenah Ansari during one of their lunch meetings
Ana: What makes you proud of the work you do?
Miri: Ahhh, this one is a hard one. One of my bosses once told me that I'm too hard on myself. I think he's right. I'm always looking back and thinking: What could I have done better? I don't think I'm ever satisfied, let alone proud of the work I do. But I can tell you that what does make me proud is having full confidence that I put my best effort in everything I do. Sometimes the work itself is not the best. Sometimes I fail royally. But every time I can walk away with the full conviction that I gave it my very best and that makes me proud. I think when you have that self-assurance, you don't define yourself by the output but by the diligence you put in it. I always say "Failing doesn't make you a failure. It makes you a doer". I guess it makes me proud that I haven't given up yet. 
Miri volunteers her storytelling and social media skills in Swaziland
Ana: What is your passion? How do you live your "why"?
Miri: Life. I'm passionate about everything life has to offer. There's so much to do and see. So many people to meet and cultures to learn and foods to experience. Life is beautiful, even in its darker moments. I truly get a euphoric feeling every morning when I wake up because I get another day to live and don't take one minute of it for granted. This is my WHY. Because life is a gift. Life is short. Life is an opportunity I get every single day to stretch my boundaries and face my fears and see what's beyond my comfort zone. I live my why by taking risks and being vulnerable. I love hard. Work hard. Play hard. Fall hard. It's the only way to live, in my opinion. Or else, we're not truly living.
Miri visiting Lion Park during her 6-hour layover in Johannesburg while on volunteering for #MySkills4Afrika
Ana: What are your contributions to your community?
Miri: I believe volunteering is one of the best ways to give back to your community. My parents were missionaries and through hands-on volunteer work, we learned very early in life the value of giving back to others. We were of humble beginnings ourselves, but even then, there was always someone with a bigger need that we could help.  I have always volunteered in many organizations including my local church. I currently volunteer coaching students at Network for Teaching Entrepreneurship, board of directors membership at Trade+Impact and story contributor for PR News. I am also the Diversity and Inclusion lead for Shared Services Engineering group at Microsoft. My most memorable volunteering opportunity was through #MySkills4Afrika where I trained social enterprise leaders in Swaziland and Morocco to launch their business on social media.
Miri makes a quick escape with husband of twenty years, Luis, to Jerusalem while on assignment in Israel
I'm also working REALLY hard with my husband to raise well-rounded young men who are less concerned about their personal wants and can leverage the platform we have built for them to contribute to society and the greater good. No participation trophies for them! (this is the most challenging work ever!)
She is a "mom of two boys and an American bulldog". A job, she claims, is the most challenging of all
Ana: What advice would you give to other professional and entrepreneurial Latinas, whether coming from other countries or already in the US, to grow in their career and professional or business objectives?
Miri: The American Dream is not dead. It is very much alive and in today's digital age, more attainable than ever before. With the birth of Social Media, we have been empowered to share our voice and build our reputation for the world to see. Build your personal brand and take it digital. Let others know who you are and why you do what you do, what inspires you, what you aspire to. Drive your own reputation and watch others tune in to that thought leadership. There really isn't anything more powerful than that today. Most of my career opportunities have come from people who simply "saw a post on LinkedIn." If you don't take the time to build your personal brand, someone else will do it for you and it won't be reflective of who you truly are. Be authentic in your branding and own your beautiful Latinness!
Miri and mentee Erika Camacho pose for a hands-free selfie at Sydney's Opera House
Ana: Anything else you would like to share with us?
Miri: Just a reminder to anyone reading this that we are all on the same journey to accomplish something and leave a legacy behind. No one is superior to another. We all have different opportunities and challenges in life, but it is not a competition. Live your own journey, do your best and forget the rest!
Miri checks "camel riding in Marrakesh" off her bucket list while speaking in Morocco
Thank you Miri for sharing your inspiring story!