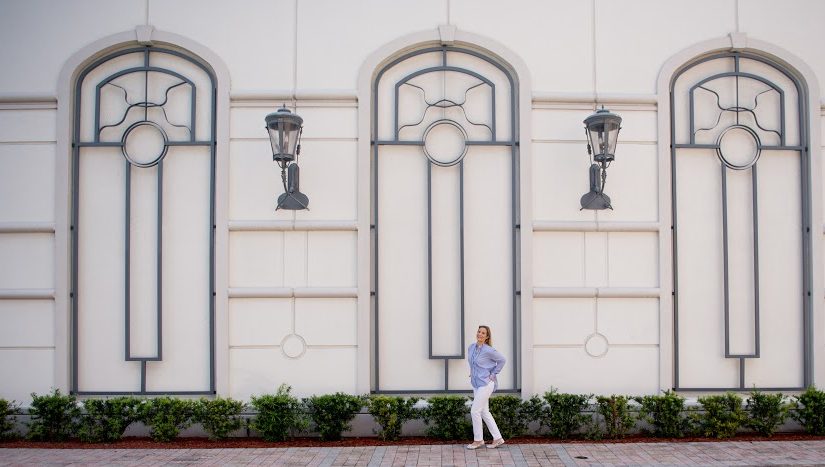 Noelle at the beautiful Mizner Park in Boca Raton, FL
Noelle Brillembourg is a successful lifestyle blogger in Boca Raton, Florida, where she showcases the awesome Latino influences that are gaining popularity. She is a proud Latina who uses both Spanish and English to communicate with her audience to bring them great advice and share her thoughts about being a bilingual Latina and loving it. This is her story.
NENANI: Had you thought about moving to the US when growing up?
NB: No, when I was growing up in my beautiful country Venezuela, I never thought in a millions years that I would end up living in the United States, and much less raising my family as a first generation immigrant.
However, my dad has always been a visionary and he started to notice the political changes in my country that began in 2000 with Chavez, and he started to prepare my siblings and I for new beginnings much prior to that.
NENANI: When did you decide to move to the US?
NB: Well, at the time I was going to college in Caracas, but my then boyfriend (now husband) was living in Pompano Beach, Fl. and traveling back and forth between both places. It got to a point that we decided to get married and move permanently to the US so he could continue working full time and I could better prepare myself academically.
We moved to the United States in November of 2000 and I have loved every minute of it. Needless to say, it has been a long and difficult journey, sometimes full of hard decisions…but how rewarding it is now to look back at where we started, and see how much we have today in every aspect of our lives compared to our first years.
Noelle and her family
NENANI: What is your current profession? How did you prepare for it, both in education and prior experience?
NB: I think that all the life experiences that I had prior to deciding I wanted to be a lifestyle bilingual Latina blogger had to be what prepared me, in combination with my personality and my need to keep reinventing myself.
However, I am much more than that. I am a mom, a wife, and I have a bachelor's in psychology with a MIBA, which gives me the knowledge and education to write in both English and Spanish.
Noelle at Mizner Park in Boca Raton, FL
NENANI: What would you say are your contributions to your community and the country?
NB: I'm trying to educate my Latina friends that this country has so much to offer, and we as guests are the ones that need to adapt to it and not the other way around. Of course, I love my culture and I want my kids to learn about it, of course I speak Spanish and enjoy when its spoken around me, of course I have a lot of friends from South America, but I adore the gringas in my life and want to learn as much as possible from them if not for me for my kids that were born in this country.
However, I feel that to succeed as immigrants we need to blend into the new culture and evolve with it. We left our countries for a reason and as much as we love what we left behind, we need to understand that this it's not the same and never would be.
Noelle and her beautiful daughter celebrating the 4th of July
NENANI: Why have you decided to stay in the US?
NB: If you read my blog, you will find that I write that at this point in my life I feel that I don't belong 100% anywhere anymore; I'm not 100% Venezuelan any longer, nor 100% American.  
However, as time passes and the longer I stay in USA my roots grow fonder. We built a life here, a family, a home…I love the way Americans welcomed, respected us and have tried to learn about our culture as much as we have learned about theirs. I don't think I will ever be able to go back to Venezuela even though it's always in my heart.
Noelle's husband, son and daughter
NENANI: What do you feel is your passion? Can you describe how this came about and how you express and live this passion?
NB: I found out late in life what my passion was. Luckily I am a restless person and I kept searching because I knew it was in me to find it. After I had my daughter, I decided to take a break from the financial industry and months turned into years. However, when it was time for me to go back to work the industry was not the same for me, I was too sensitive I think
So when I quit I began to write, and that developed into the blog that I have today. I have so many things to say, so many ideas to share with my Latino amigas just coming to South Florida, especially the ones coming into Palm Beach and Broward.
So I passionately share them through my blog and social media as much as I can, it takes a lot of work, dedication, planning and events…but oh, how I love it.
NENANI: What advice would you give to other Latina professional women, whether coming from Venezuela or other countries, or already in the US, to grow in their career?
NB: I think we Latinas are super resourceful, if we don't know it we learn it, and if it doesn't exist we create it. However, the best advice that I give my Latina friends is to always network and broaden your spectrum, that has been critical for me always. Make friends from all cultures, businesses, races, social status…it will give you a better understanding of life and most importantly what this country is all about.
NENANI: Anything else you would like to share with us?
NB: You can find my blog at: www.bilingualandlovingit.com
And follow me on:
Instagram: bilingualandlovingit
Snap: bilingualandlov
Twitter: bilingualandlov
Pinterest: Bilingual And Loving It
Thank you Noelle for sharing your passion with all of us, in both English y Español!
Ana M. Albert and Noelle Brillembourg – July 2016