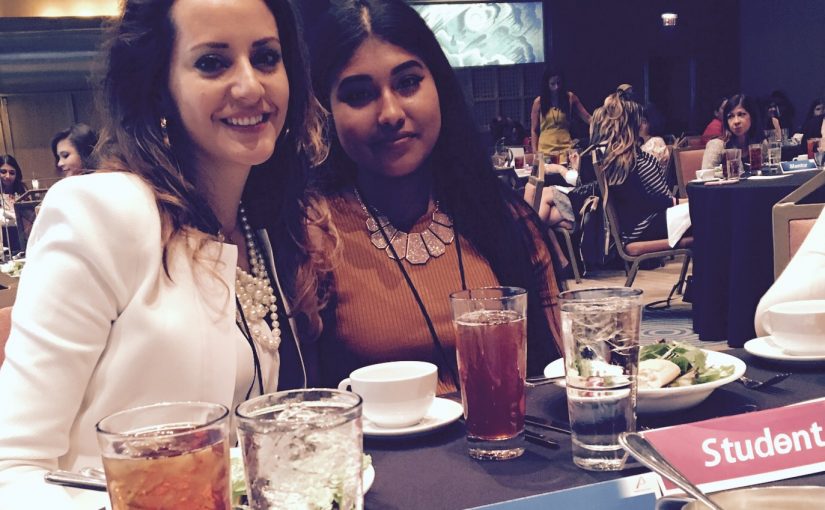 My mentee, Claudia, a sophomore in high school ready to take on the world
ALPFA (Association of Latino Professionals For America) brings together Latino professionals dedicated to build the Latino leaders of the future. Thanks to the incredible efforts of the ALPFA Orlando chapter, 100 young Latina high school students were able to spend an evening at Disney's Contemporary Resort being mentored by top Latina leaders in the community. I was very fortunate to be one of the invited Mentors and beyond the extraordinary event that ALPFA Orlando delivered, the power of bringing together a mind and spirit ready to learn and one ready to share is priceless.
Each table paired Mentors and Mentees for an evening of sharing that will stay with these young students and will provide them with tools for their continuous growth.
With Nancy Alvarez, anchor and reporter at Orlando's WFTV, and Maritza Reyes, Associate Professor of Law at Florida A&M University College of Law
Another exciting side of being dedicated to the advancement and growth of young Latinas is to find likeminded women with whom you share that mission plus an alma mater. Meeting Nancy Alvarez, anchor and reporter at WFTV, and Maritza Reyes, Associate Professor of Law at Florida A&M University (FAMU) College of Law, both Latina leaders in their respective fields and fellow Florida Atlantic University owls was a treat. Go Owls!
And then of course there was meeting Minnie!
I encourage all of you to become a mentor, regardless of your age or experience. Nobody goes through the same things and just being open about each other's struggles and successes, repeating each other's choices, can open a world of infinite possibilities to grow.
Thank you ALPFA Orlando's President, Hector Perez, and the entire team for the opportunity to reach a future Latina leader's heart and mind!
Share your mentoring story with me at ana@nenani.com.