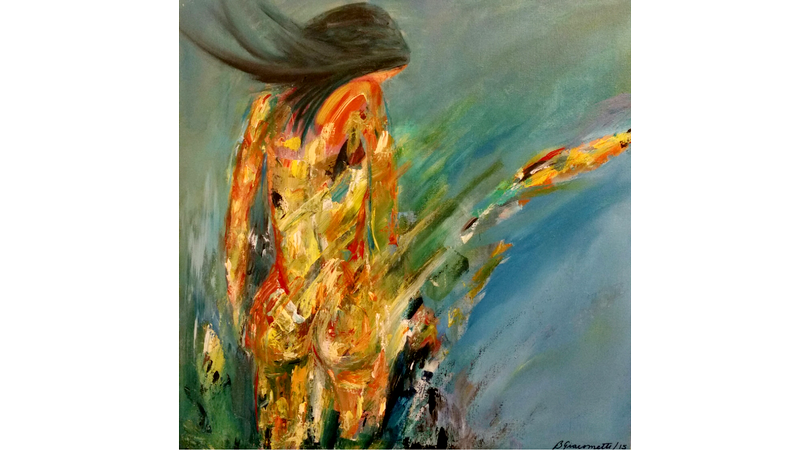 Bernarda Giacometti's artwork: " Free Spirit" 2015  Acrylic on canvas 20″ x 20″, at ArtServe exhibit in Fort Lauderdale, FL
Bernarda Giacometti has expressed her artistic talents in various forms throughout her life. Whether it was leading Ecuador's Association for Textile Industries with her work in textiles and fashion, or with her own design studio and company for interior decoration, or now exhibiting her acrylics-on-canvas artwork, Bernarda has succeeded in every field thanks to her indisputable creative brilliance and continues to be inspired by the beauty of her surroundings that furthers her  growth. Here's her inspiring story.
NENANI: Had you thought about moving to the US when growing up?
BG: I grew up in Quito, Ecuador. My father was a Textile Engineer born in Italy; my mother is from Ecuador. She earned a Bachelor's Degree from Marian College in Indianapolis, IN. This was extremely unusual for a woman in the early 1940 living in Ecuador. Therefore there were high expectations for my 5 siblings and myself that we would complete our higher education. The conversation was never if, but always what and where. Some of my brothers and sisters opted for Europe, others for the United States, and so I did. I studied Fashion Merchandising at Northwood University in Midland MI; Liberal Arts at Eastern College in St. David, PA and finally Interior Design at J.R.P Institute in Arlington, Va.
However, it was never on my plans to stay after completing my studies or to eventually move to the U.S. and build a home away from my family. So I was surprised when I had the opportunity to do so and made the brave decision to move.
NENANI: When did you decide to move to the US?
BG: Upon my return to Ecuador after finishing my studies in US, I continued traveling internationally for work related activities, including to the U.S. In Quito I worked in my own Design Studio, also as the Chief Executive of the Fashion and Export Department at the Ecuadorian Association for Textile Industries (A.I.T.E.).
In the late nineties the opportunity presented itself to come to live in the U.S. Being in this country has allowed me to explore facets of my creativity that I had not explored before. I continue to be inspired to build and improve my capabilities.
NENANI: What are you currently dedicating your time to? How did you prepare for it, both in education and prior experience?
BG: Currently I am focusing on learning and growing in the arts field. Creating and developing a personal style through various mediums, working primarily with acrylics on canvas.
For the past three years I have been attending art courses. At the Armory Arts Center in West Palm Beach and the Boca Museum of Art School in Boca Raton.
The desire of becoming a full time artist has been in my heart for many years, and I believe the time has come to devote myself to this extraordinary experience.
Bernarda Giacometti's artwork: " Journey" 2016 Acrylic on canvas 24″ x 20 ", at ArtServe exhibit in Fort Lauderdale, FL
Working with textures, colors, shapes, illumination, balance and composition throughout my professional life, have given me the pleasure of feeling design as a fluid dance, full of energy and sensitivity.
These visual and emotional movements have introduced me in a spontaneous and organic way to what I am dedicating my time nowadays. I had been invited to exhibit my art work, and would continue doing so.
My experience in the fashion world as well as interior design began in Ecuador working very close to the Textile Industry, incorporating international fashion and home trends, for the production of goods, with the purpose of developing competitive lines across the board for domestic and foreign markets.
In the area of Interior Design I focused on private residences, commercial places and stands for trade shows.
Living space at The Plaza at Oceanside, Pompano Beach, Florida,  decorated by Bernarda Giacometti
For the past 18 years, living and loving Florida, I have continued doing Interior Design. During this time I worked for two prestigious companies, Artefacto and Sklar, as well as my own firm.
NENANI: What would you say are your contributions to your community?
BG: Working as an Interior Designer, I listened to my clients' needs and wishes, and facilitated them to achieve their dream homes. I selected the right elements with the purpose of delivering beautiful and functional environments, incorporating a contemporary, clean and modern aesthetics conducive to living, growing and enjoying a harmonious space.
Being part of the Art Community is a great honor and a responsibility. Art could be approached as a tool or as a therapeutic medium to help, guide and inspire both its viewers and creators thus enabling us to become better versions of ourselves.
Art such as painting, music, theater, poetry among others gathers people in communities and facilitate sharing stories in a casual and friendly way. Art also generates wellbeing and turns a city into a better place to live. Art promotes business and improve the socio economic status.
It is a great satisfaction to realize how art makes a difference in our world and I feel privileged to be a part of it.
Bernarda Giacometti's artwork: "Deep Purple" 2014 Acrylic on canvas 24″ x24″, at ArtServe exhibit in Fort Lauderdale, FL 
NENANI: What is your passion? Can you describe how this came about and how you express and live this passion?
BG: My passion for art and its expressions have been the moto of my life. Working on Fashion Design and Interior Design and now painting with acrylics on canvas make me feel very fortunate and grateful. Learning how to improve my skills is a challenge I face every day.
A blank canvas allows me to express emotions, feelings and ideas that provide the space to create something new every time. I start with a concept, that is, the underlying idea. Then I visualize the composition and select the palette of colors to use. Finally I loose myself in the moment, in that creative frame of mind that leads me to completely immerse myself into the execution, not knowing how and what is going to come out. Deciding when the initial concept is resolved or finalized is the most elusive question; sometimes I know immediately other times it could take days. It is always a surprise.
The style is a suggested realism, and colorful abstraction. The technique is palette knife in a modern impressionistic way.
For me doing art is like kayaking in a beautiful river, not knowing what is waiting around the next turn, just enjoying the moment in nature. My frame of mind is going with the flow, being present, being aware of what is going on in the surroundings, feeling at peace in a complete sense of oneness.
Bernarda Giacometti kayaking in Florida
NENANI: What advice would you give to other Latina professional women, whether coming from Ecuador or other countries, or already in the US, to grow in their career and reach for their dreams?
BG:
Believe in yourself, be real and be yourself

In every challenge there is an opportunity

Expand your knowledge

Discover what your passion is, get good at it and repeat

Listen to what people are saying

Stay focused

Do not be afraid to fail

Shift from DOING to BEING
NENANI: Anything else you would like to share with us?
BG: I would like to thank NENANI for being the voice of a growing community of Professional Latin women, who are succeeding and contributing with their talents and hard work, to become role models for new generations. I am confident all this effort and commitment will translate into well being for their families and society.
Bernarda Giacometti and Ana M. Albert at the ArtServe exhibit in Ft Lauderdale, FL – July 2016
Thank you Bernarda for sharing your inspiring story with us! We look forward to your continued success in the art world!