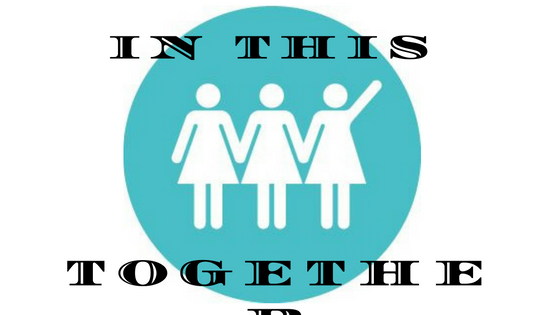 Finally somebody gets it – We're in this TOGETHER!
One of the main reasons NENANI exists is because I wanted to showcase the contributions that Latina professionals are making to their communities regardless of their political background. Many of my closest friends and successful Latinas I feature are on the completely opposite side of the political spectrum than I am, but because of my ambition to empower women and see increased women leadership, I will always support their efforts to grow and develop.
Now, to be clear, not because I am a woman, of Latin origin or any other label am I immediately qualified to do any and all jobs. On the other hand, being any of those labels should not disqualify me from having the opportunity to go for and excel at any job either. It is with the right education, preparation, hard work, proven competence and a constant desire to learn that I become an attractive candidate for the roles I'm pursuing. That is where we come in: supporting all women in achieving the right education, growing in competence and having our voices heard. I can do anything I put my mind to and so can we all, but I would not expect to be entitled to a position in business or in government only because I'm a woman or Hispanic. I would expect to be an attractive candidate because of my capabilities, experience and contributions to that role. Being a woman and Latina are biological and geographical dimensions of who I am, not accomplishments. So the key is to work together to have our voices heard and demonstrate how capable we are beyond any label.
With NENANI I want to change the narrative for Latinas so that as both women and Hispanic we do not fall into one particular single-minded voting block or fall victim of stereotyping. We should all vote and make decisions based on our principles without fearing retaliation. As women, one of our biggest contributions to business and society in general is that we are inclusive and great at collaborative work, so it is incredibly hypocritical to bash another woman because of having different political views. This is why I love what the All In Together Campaign is doing: attempting to rectify the problems established by the lack of female voters in the country and amplifying women's voices in politics on a non-partisan platform.
I wrote to the All In Together camp to double and triple check that they do encompass all political views, asking
"I hope I am understanding this correctly: your efforts are bi-partisan, correct?"
I was in such disbelief that finally someone was taking the bipartisan or nonpartisan road for supporting women's advancement I have been on that I thought I could be reading things incorrectly.
I continued,
"If so, I will fully support your mission and would love to be involved. I have been frustrated and honestly terrified to voice my opinion, which differs from the existing narrative, without backlash or bullying from the other side of the aisle."
According to Courtney Emerson, Co-founder & Chief Operating Officer of All In Together, AIT is a nonpartisan organization and she "100% agrees that it's critical to be inclusive of all women's voices (even if we disagree)." Courtney adds,
"Our goal is to amplify the voice and influence of all American women (regardless of political views) at every level of our government and democracy."
Courtney points out that women are actually more likely than men to vote in national elections — but are less engaged in all other measures of civic/political engagement (less likely to talk about politics, write to their representatives, donate to political campaigns, run for office, etc). So we need to encourage women not to just use their vote but — equally important — their voice.
I'm so relieved and inspired by the initiative of young powerful women like Courtney Emerson, Lauren Leader-Chivee and Edda Collins Coleman, who are leading the efforts to push for women's advancement in a truly inclusive and collaborative way. This gives me hope.
I invite you to visit the All In Together Campaign website, learn about their initiatives and be encouraged to participate.
Thank you Courtney for your personal note and inspiring words! We are on the right path now for sure!