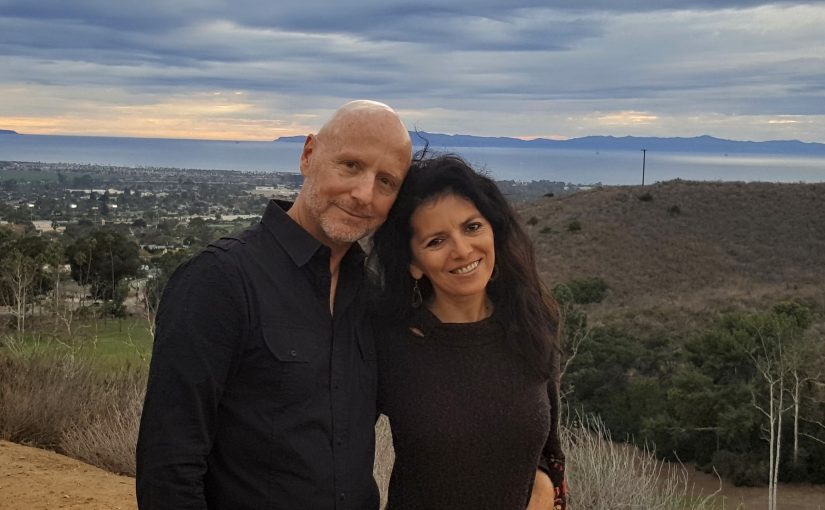 Jacqueline Lopez and partner Michael
Jacqueline Lopez is a motivational leader for Hispanic women entrepreneurs. She inspires herself by helping others who want to grow their businesses and reach success. Her vitality and energy are contagious and she connects to her network through her motivational messages. Through conferences, columns and the Latina Radio Network program, she has had an enormous influence in the careers of her followers. 
Jacqueline, an entrepreneur without borders, is the host of the Radio Latina Network radio show through TogiNet. The topics of the program a various but focused on business initiatives, how to navigate the corporate world, how to achieve a professional career, how to manage a family business and the advancement of women in a "man's world". She is also the author of the column "Red de Emprendedoras", published regularly at radiolatinanetwork.com. This is her story in her own words.
NENANI: Where did you grow up and had you thought about moving to the US?
Jacqueline: I was born in Ponta Pora, Brazil, literally a block from the line that separates Paraguay and Brazil. At 7 years old, my mother, originally from Paraguay, moved the family back to her country. I lived in Asunción, Paraguay until I moved to the US in 2000.
I intuitively knew that I wanted to have a bigger world. I dreamed of traveling to many places to experience other cultures. After I graduated as a CPA, I was granted a scholarship by the United Nations to pursue Economics for underdeveloped countries in Bogota, Colombia. Meeting someone from the US was a turning point in my life.
NENANI: What makes you the most proud of the work you do at Radio Latina?
Jacqueline: I absolutely love to learn, and what better way to learn that talking to people who have 'been there and done that'.
I 'visit' different cultures by listening to each guest's story. I have had guests from Spain and most of the South American countries, as well as many different states in the US.
I love to support entrepreneurs wanting to own their future by starting a business. I want to switch the narrative from 'Hispanics take  our jobs away' to 'Hispanics are creators of jobs not only for themselves but also others'. I believe that people who come to the US, regardless of their origin, are tremendous assets to this country and our job as Latinos consists of bringing that reality to light.
NENANI: How did you prepare for your current role, both in education and prior experience?
Jacqueline: I'm an entrepreneur, in other words, I learn by doing. I started the Central Coast Women's Network, a directory of women in business, and have ran it successfully for many years, which prepared me to interview professionals and startup owners. Radio interviews are mostly about being a good listener and timing the segments just right so the show runs smoothly.
Jacqueline ran the Central Coast Women's Network in San Luis Obispo, CA
NENANI: What do you consider are your contributions to your community?
Jacqueline: I contribute to many local organizations by donating my time. I give pro-bono speeches to youth in high schools to inspire and empower them. I also make presentations with my partner at cancer support centers around the country.
Professionally, I teach entrepreneurship and speaking skills to teens, so that they don't have to necessarily go to college if they have a business idea they wish to hatch.
TEDxChumash organized by Jacqueline in San Luis Obispo, CA
NENANI: What is your passion? Can you describe how this came about and how you express and live this passion?
Jacqueline: My passion is to inspire and empower people (specially millennials and even younger) by sharing my story, experience and life lessons from the stage or by presenting educational programs to organizations and corporations.
Photography by Radio Latina Network
NENANI: What advice would you give to other Latina professionals, whether coming from other countries or already in the US, to grow in their career?
Jacqueline: My advice is this: start a business with either formal or self-taught skills, pursue a career path to achieve financial freedom first, travel and experience the most you can before settling to become a wife and mother, if you choose to do that.
There are so many opportunities for young people to succeed in life, find a mentor and read good books.
NENANI: Anything else you would like to share with us?
Jacqueline: For those who are looking to 'grow', I recommend these books:
The success principles

Rich dad poor dad

The 4-hour workweek

How to win friends and Influence people

The 48 laws of power

The alchemist

Man's search for meaning, mastery, mindfulness for beginners

The obstacle is the way
Photography by Radio Latina Network
Thank you so much for sharing your story with us. You will continue to inspire me and many others with everything you do!