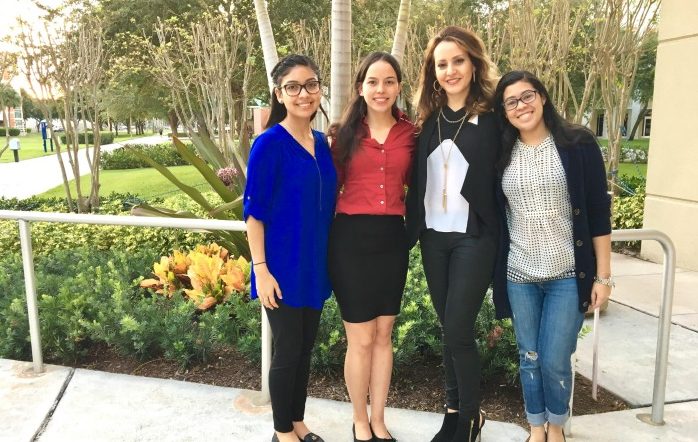 Joanna Bejarano – Impacting Young Lives Through Education and Service
As part of my NENANI Mentorship program, the Future Latina Leaders who participate in the program have the opportunity to showcase their writing skills by choosing a NENANI featured Latina professional and describing how she is inspired by that Latina's journey. Joanna Bejarano chose to write about Ana Carolina Uribe,  an adventurous and compassionate champion for special needs families. Join me in congratulating Joanna in her continuous journey towards becoming a Future Latina Leader and enjoy her thoughts below. Well done Joanna!
Ana Carolina Uribe's life story is very interesting, adventurous and warm-hearted. I choose Ana Carolina because her life story touched me in the sense that she is a seeker, hard-working and persistent individual. I admire how she has been open-minded to everything that has come across her way. She receives everything with open arms and embraces it without question. A great example is her son, she said it herself "to this day, some Latino families unfortunately still look at a child with special needs in a different way instead of embracing what they have, learning what he or she needs in order to succeed and being an advocate for their own child."
I admire her words and her way of viewing life in others. I understand her point of view, because I have a little cousin with a disability and through him I've learned that no matter how we are born we are all special. I also love the fact she has a passion for flying and enjoys life! I personally love to travel and live each moment of life as if it was my last on earth. Ana Carolina Uribe is at heart an amazing and inspiring woman for all future Latinas! She has sure inspired me to " find a passion and run with it."
My current objective is to finish my bachelor's degree at Florida Atlantic University with a major in psychology and a minor in sociology. My vision is to one-day reach out to the youth community and impact their lives through education and service.
I want to motivate youth to strive for greatness in their life through hard work and education instead of wasting their time in drugs and alcohol. My passion is to help others see beyond their problems, struggles and failures and let them know there is hope for change and a better future for them.
Keep up the great work, Joanna! I know you have a fantastic future ahead of you!