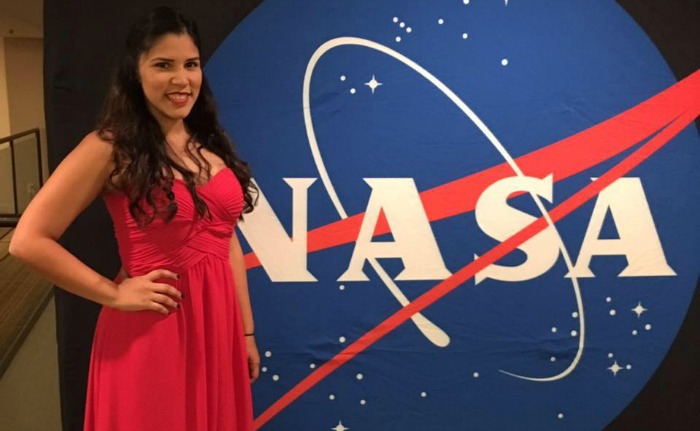 I met Kristina Irastorza, Contract Specialist at NASA, during ALPFA Orlando's Women of ALPFA mentoring night at Disney's Contemporary Resort in October 2016, where we shared a table of mentors and mentees. Despite facing many challenges when she first moved to the US from Venezuela, she works hard to excel at everything she does and loves giving back to her community through ALPFA and many other initiatives. Read on to learn more about her great story.
NENANI: Had you thought about moving to the US when growing up?
Kristina: I moved to the US when I was 11 years old. It was just my mom, brother and I. We were supposed to come here for 1 year while my mom took a sabbatical year from her job to study English. I remember as soon as we arrived in Miami, all my dad's side of the family were there to welcome us and offer their help in any way.  However, the start to our new life was challenging. Two weeks after we arrived in Miami, my mom had to leave to finish all the paperwork she had to do before starting her sabbatical year.  Additionally, even though my brother was here, we were not living together as he stayed with his grandmother while I stayed with mine. It was also difficult being in another country where they spoke a different language.
It was really hard to start school without my support group (my parents and brother). I remember being excited but really scared. In Venezuela, I went to a private catholic, all-girls school, so when I saw the middle school I was attending for the first time, I was so nervous and confused as it was huge! On the first day of school they gave me my schedule and told me to find my classroom, and that, by the way, I had about 5 minutes before the bell rang. Huh? What bell? Yeah, let's say it was an interesting first day as a 6 grader.
NENANI: What is your current profession? How did you prepare for it, both in education and prior experience?
Kristina: I work as a Contract Specialist. I received my bachelors in Business Management with an emphasis in Human Resources.
NENANI: What are the first things people ask you when you tell them you work at NASA?
Kristina: Yes, you heard that right, I work at NASA. Every time I tell people where I work a very common response I get is "Wow you are so lucky!". And to answer their comment I say no, I am not lucky, I am just determined to work hard and keep pushing myself when I see a good opportunity. Working for NASA has definitely opened my mind and many opportunities.
I started working for NASA when I was on my senior year of college. I had no experience whatsoever. I had tons of interviews with different companies before I finally had my interview with NASA. I remember being so nervous and excited to have the privilege to meet with people from NASA, one of them being my future supervisor at the time. The most important thing I remember about that interview was that I was myself 100% of the time.
Don't be afraid to apply to a job just because you don't feel you are a rocket scientist. If you have the desire to do well and excel at your job, that is all you need and what what your employer needs from you.
They can teach you the job, but they cannot teach you how to be a good employee.
The second most common question I get is "Do aliens really exist?"  🙂
NENANI: How did being part of ALPFA shape your college experience?
Kristina: Being part of ALPFA was a great experience for me. I had the opportunity to surround myself work, network, and learn from great and influential group of people. It also prepared me for my first ever internship, and job interviews.
NENANI: What do you consider are your contributions to your community?
Kristina: I love to give back to the community whenever I can. I was the Co-Chair of the Hispanic organization at NASA for two years. During that time, I tried to bring innovative ideas to the workplace while keeping my eyes open for opportunities for Hispanic employees. I also brought guest speakers to talk about NASA projects, how to help with retirement among other things. I also worked on events to showcase our culture throughout the center by celebrating the Hispanic Heritage month.
I was part of Great Minds in STEM college bowl, which is a two-day, high energy competition in which teams of college students, coached and judged by industry and government representatives, focus on showcasing their talents, teamwork and leadership skills.
I am part of ALPFA Orlando and right now I am trying to open a SHPE professional chapter by the Space Coast.
NENANI: What do you feel is your passion? Can you describe how this came about, how you express and live your passion?
Kristina: I consider that I have a passion for traveling. I love the feeling of curiosity, anxiousness, and happiness that you get when you are about to go to a new place. I love to learn about new cultures, languages and experience how other people see and enjoy the world. Every time I travel it gives me a different perspective on what I have and the things I know. From trying different types of foods, to jumping off a waterfall, I believe you have to live in the moment and enjoy everything that life has to offer in that particular moment.
NENANI: What advice would you give to other Latina professional women, whether coming from other countries or already in the US, to grow in their career?
Kristina: Embrace opportunities that force you to step away from your comfort zone; it's the best way to grow in your personal life and professional career. Take the initiative; think outside the box and volunteer for different opportunities. There is always a need for people to work on new projects or new challenges and by taking those opportunities you will grow as a professional.
Thank you Kristina for sharing your story and encouraging words!