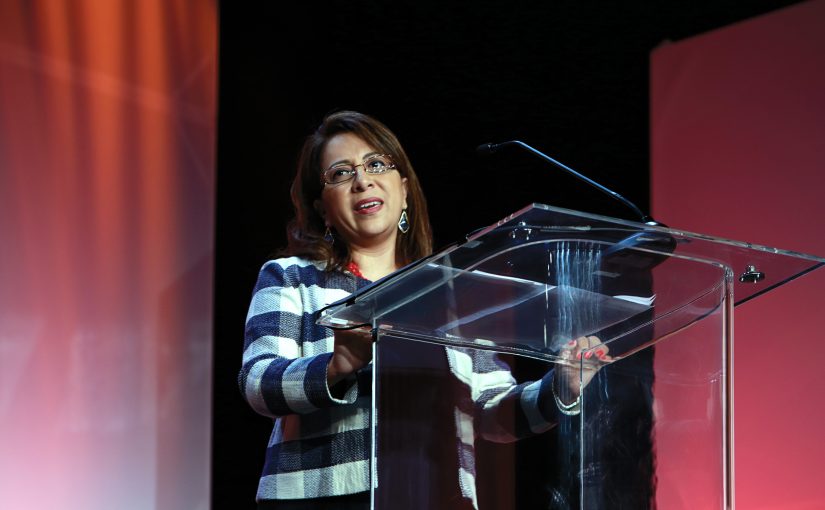 Nancy Molina receiving the 2016 Women of ALPFA award at the ALPFA Convention in Dallas, TX
Nancy Molina is  an accomplished Latina who has achieved much since moving to the US as a child. The recipient of the 2016 Women of ALPFA award, Nancy makes all of us Latinas and Ecuatorianas proud of her accomplishments and drive as a successful professional who also gives back to her community as the President of ALPFA's Houston chapter. Her hard work and willingness to take chances have set her up for a life of family and career success. This is her story in her own words.
Had you thought about moving to the US when growing up?
I knew that at some point I was going to move to the US as my parents came to the US when I was two years old in search of the American Dream. My brother and I were raised by our maternal grandmother. I will forever be grateful to my Abuelita Elena.
When did you decide to move to the US?
 At the age of eight, my brother and I migrated to New York. I was excited and scared at the same as I would have to learn a new language. I was also going to meet my father for the first time as he left Ecuador when I was one.
What is your current profession? How did you prepare for it, both in education and prior experience?
I attended college in New York City and during my second semester I had to find a job to fund my education. I secured a part time job with Arthur Andersen in the benefits department. This part-time job was my exposure to human resources and contributed to my decision to pursue a Bachelor of Business Administration in Human Resources.   It took me eight years to complete my undergraduate degree; the first four years I went to school full time and worked part time and my last four years I worked full time and went to school part time.
After spending ten years with Arthur Andersen, I was referred to Deloitte by a colleague and joined the Deloitte, New York office, in 1999. During my tenure at Deloitte, I held several roles in Talent Acquisition, Learning Development, participated in a global assignment and was active in the Hispanic Latino Business Resource Group. 2015 was my year of change and I wrapped my year by joining Grant Thornton LLP in a newly created role as Talent Acquisition Leader for Advisory Services. My education was the foundation for my career.
What would you say are your contributions to your community and the country?
Over a decade ago I became actively involved with ALPFA. My active involvement with ALPFA allows me to give back to the Latino community by mentoring and developing Latino leaders for the future. I make the time to volunteer in community service events with ALPFA and via my involvement with the Latino/Hispanic Business Resource Group at Grant Thornton LLP.
Why have you decided to stay in the US?
I came to the US at an early age and the US is my home. I will always value and cherish my Ecuadorian roots. I'm a naturalized US citizen and grateful for all the opportunities this beautiful country has afforded me.
What is your passion? Can you describe how this came about and how you express and live this passion?  
I'm passionate about life and believe that one must live life to the fullest. I express and live this passion in my dedication to my family and friends, commitment to giving back to my community and believe that in all situations you either learn or grow.
What advice would you give to other Latina professional women, whether coming from Ecuador or other countries, or already in the US, to grow in their career?
Always keep an open mind and take chances! In 2007, I was given the opportunity to travel to India for a global assignment with Deloitte. It was a six week assignment and for me the opportunity of a lifetime. At that time, my second child was two years old and we had just moved to Houston from New York. I remember coming home and discussing the assignment with my husband. I said the following to him – "Think about it, it's only six weeks out of fifty two, not bad right".   I kept an open mind and took a chance. It was one of the best professional decisions I made in my career.
Nancy Molina (center) with Ana Albert (second from the right) at the 2016 ALPFA Convention in Dallas
Thank you Nancy for inspiring so many of us Latina professionals to reach for our dreams!