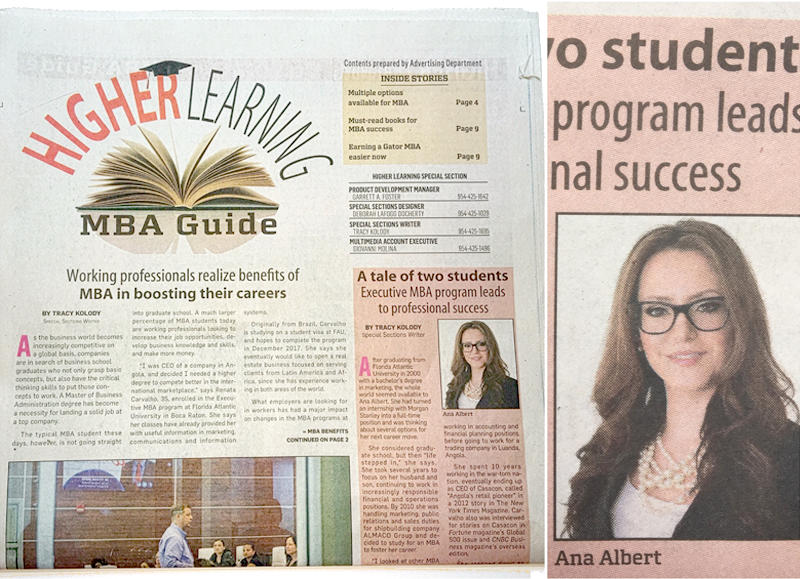 never stop learning – my emba at fau
Your desire to learn and improve yourself should never waiver. Every decision you make and mistake you live through are opportunities to learn and grow. Whether it happens on the field through trial and error or in the classroom, every time you put yourself in an environment to grow it will always pay off.
In my case, I chose the academic route, took the plunge and finally went for my Executive MBA in 2010. Yes, it was an important investment. Yes, it took time away from my family. And yes, I gained a little weight, but all the time, effort, and sanity I invested into fulfilling a major line on my professional bucket list has paid back with interest.
However, a lot has to do with where you make that investment, and I made the right choice going back to Florida Atlantic University. After researching other options, FAU seemed like the best alternative.
And boy, was I right! My experience was beyond fulfilling in both expected and unexpected ways.
What you expect from an EMBA program
The elements you expect from a reputable EMBA program such as FAU's are top of the line faculty, relevant and engaging subject matter and facilities that encourage learning. Each professor in the program's international and accomplished faculty was not on top of his or her game, but also fully engaged in our development and learning. The courses were relevant to the requirements in both the corporate and entrepreneurial worlds and were taught in an engaging and efficient manner. Additionally, the beautiful building and classrooms provided an elegant and effective environment for learning.
FAU's EMBA Team – the true differentiator
The true differentiator at FAU's EMBA program is the leadership and support team. Beyond just assisting on the administrative side, FAU's team is a helping hand when in need, a sounding board when nothing makes sense, a caring hug when the going gets tough and a high five when things turn out just fine. Vegar's vision along with Sybil, Rohan, Megan, T and the whole crew makes you feel like you have a team behind you and right next to you at all times. They are truly extraordinary!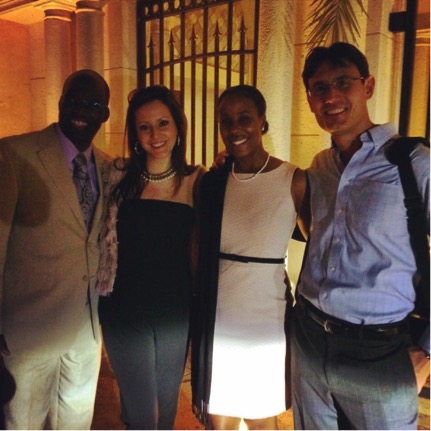 Rohan Mills, Ana M. Albert, Sybil Alfred, "T"
Unexpected experiences
It was the unexpected experiences that have made my decision that much more rewarding. From embarking on a research adventure to seeing my most ambitious goals become a reality thanks to my coaching sessions, these moments have built and continue to build towards accomplishments I never fathomed.
My research adventure
Thanks to Professor Daniel Rottig, research became an integral and exciting part of my academic experience. He opened the doors for submitting the research papers, which we were already doing for almost every class, for the Academy of International Business, South East Chapter (AIB-SE) conference in 2012. Once a research paper I co-authored was accepted that first year, every year since I submitted my work and presented it in various universities such as Georgia Institute of Technology, Florida International University and Florida Atlantic University.
One of the papers, The State of Women in the Maritime Industry, was nominated in 2013 for the Monmouth Best Master Paper. Although it didn't win, I was able to connect through the Women Academy of International Business (WAIB) with a couple of professors at Texas A & M in Galveston, with whom I co-authored research that was accepted and which I presented at the 2014 Global Leadership Women Conference in Malmo, Sweden at the World Maritime University, the graduate school of the United Nation's International Maritime Organization. The audience included royalty and both academic and business leaders from around the world. It was incredible.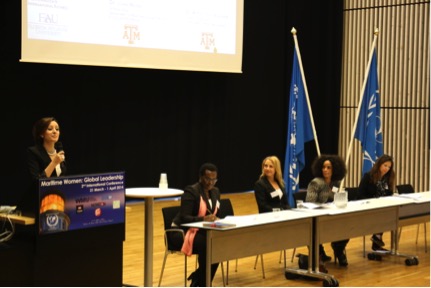 Ana M. Albert presenting research at the 2nd Maritime Women: Global Leadership Conference at the World Maritime University in Malmo, Sweden.
My 2014 submission, Doing Business in India, Harnessing Potential, which I developed under the guidance of another professor I highly admire, Dr. Steven Smith, was again nominated for the Monmouth Best Master Paper Award, which I won. Representing FAU as the winner of this award was already an honor and I couldn't have asked for more. However, this research adventure was a gift that kept on giving and in March 2015, I was approached by a German academic publishing house wanting to publish my research as a book. And now I am a published author of award winning research…it still blows my mind. You can buy the book here.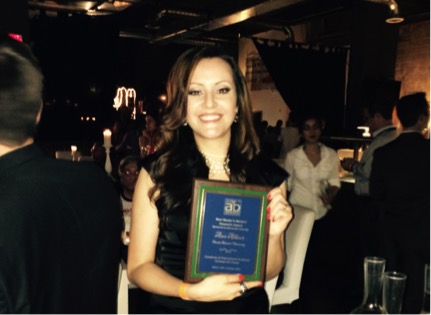 Ana M. Albert recipient of the Monmouth Best Master Paper at the 2014 Academy of International Business, South East Chapter conference at Florida International University
Executive coaching at its best 
Part of the curriculum was an executive coaching course with John Mattone, an internationally acclaimed keynote speaker and top-ranked executive coach. Through his assessments, I was able to better understand and confirm my thoughts on my leadership style and potential. One of the best tools he provided me was the Individual Development Plan, on which I work and have updated with bigger and bigger goals every year since John introduced me to it.
With John's guidance and support, I crafted a well-thought out plan that lead me to reach my goal of becoming a Vice President of Marketing at least 7 years sooner than what I had expected. From becoming a published author to having a seat at a board to being a moderator at a panel, my hefty goals are at my reach by continuing to work on my IDP objectives with clear vision and confidence. John is a wonderful teacher and true leader who wants his students to live up to their potential. I'm forever grateful.
In conclusion, go Owls!
If the above wasn't good enough, I also have to remember all the fantastic classmates and friends made along the way. Some of the most intelligent, talented and dedicated people I know I met in an FAU classroom. Thanks to the vision and leadership of Dr. John Kelly, President of FAU and Dr. Daniel Gropper, Dean of FAU's College of Business, along with Vegar Wiik at the EMBA program, I know my FAU degree will continue to support my personal growth and success in my career. Couldn't be prouder of being an Owl!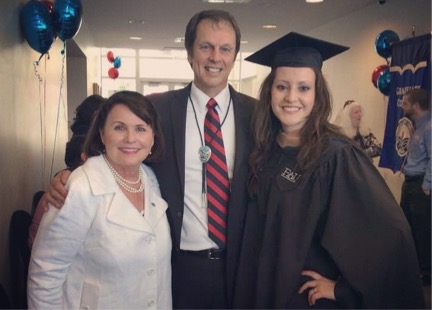 Ana M. Albert, Dr. John Kelly
Ana M. Albert, Dr. Daniel Gropper